Chico Metal Finishing, Inc. has provided anodizing services in Northern California since 1988. Our anodize processes are modern, with top-flight equipment, that allow us to provide beautiful anodize finishes with tight dimensional control. Both of our anodize processes meet the current requirements of Mil-A-8625, and are ROHS compliant.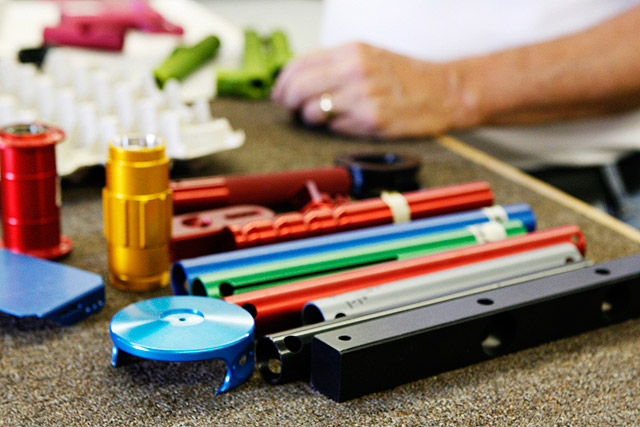 Standard Decorative Sulfuric Anodize, Mil-A-8625 Type II, class 1 and 2
We currently offer our regular anodize coating in eight colors; black, gray or pewter, blue, red, gold, purple or violet, green, and pink. Clear or undyed anodize is of course also available. All color work is sealed using nickel acetate sealer unless otherwise specified, and all clear or undyed work is hot DI water sealed unless otherwise specified.
Hard Sulfuric Anodize, Mil-A-8625 Type III,
class 1 and 2
We are working with the traditional methods to achieve a dense, hard aluminum oxide film. This involves a microprocessor controlled power delivery system and a substantial refrigeration system.
Typical alloys we work with are; 6061, 7075, Mic 6, 6063, A356, 5052, and 6065. Typical film thicknesses can go all the way to .0035. This process can be dyed but typically works best with the darker colors due to its naturally gray color in most alloys.
All color work is nickel acetate sealed unless otherwise specified, and all clear or undyed work is not sealed unless specified due to heat induced microcracking.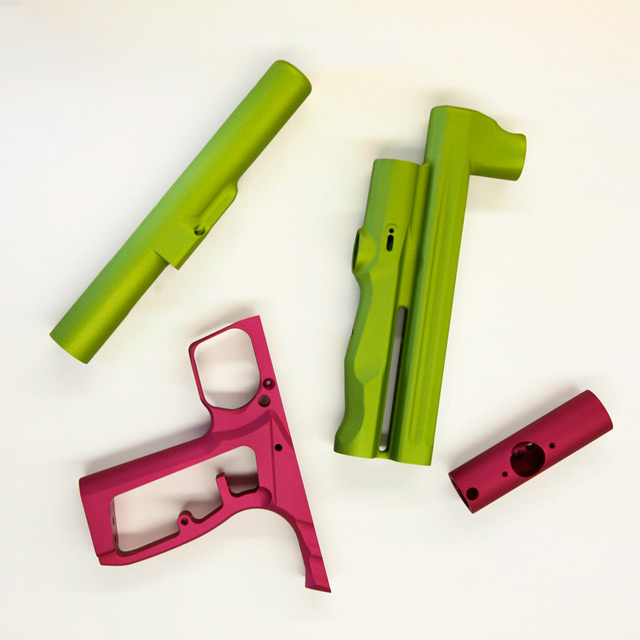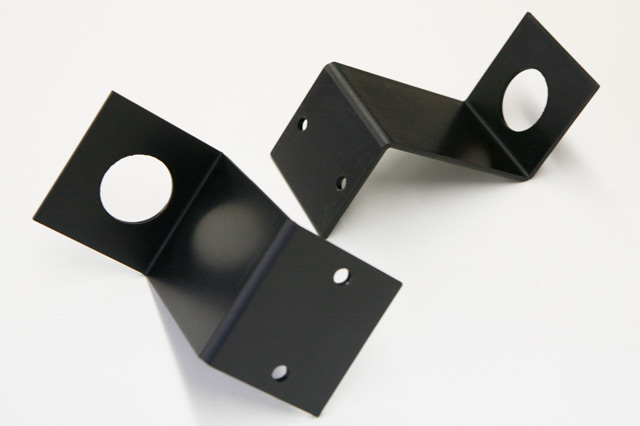 We have developed several blasted and anodized finishes which can provide a beautiful rich finish. These finishes can range from a rough "dusted" effect to a satin smooth "flat matte". Because anodize penetrates the base metal, changing the surface reflectance can dramatically alter the perceived color.
While we cannot change the hue of the dye colors we can change the depth of color which allows a range of pastels for interior decorative uses. Care must be taken as these finishes are more sensitive to UV fade.
A Teflon top coat can be applied to your anodized product to increase its lubricity substantially. This coating has no color and almost no dimensional increase. The coating can be applied overall by immersion or selectively by brush or cloth.
We want to be your metal finishing partner. How can we help?
Clear Chromate Conversion Coating
Our clear chromate conversion coating is based on chemistry using trivalent chromium which offers the benefit of being ROHS compliant. This newer material is also somewhat more heat resistant which makes it a superior preparation for powder coating aluminum.
As the name implies this coating is clear and the silver-white appearance of your aluminum product shows through.
We can process parts up to 30" in length. Please call if your parts exceed 30" in any dimension.
We want to be your metal finishing partner. How can we help?